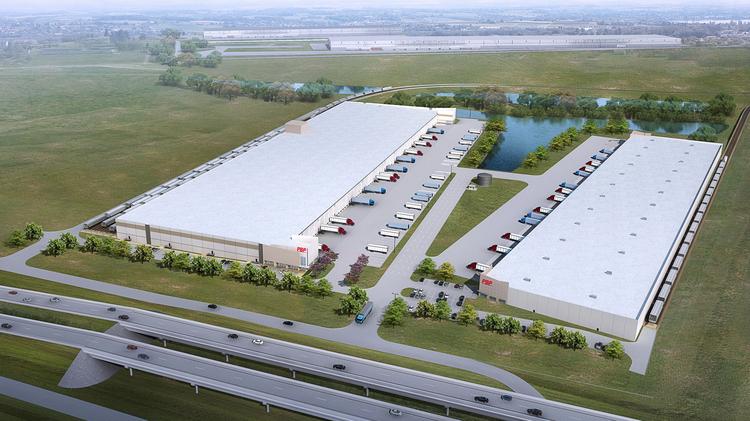 PBP currently is on 68 acres at 515 E. Grand Parkway S. in Baytown, and the new facility is being constructed adjacent to the company's existing building.
Dallas-based Trammell Crow Co. is the developer for the 519,224-square-foot project, which is being built on land acquired by an affiliate of Canadian real estate investment trust Artis REIT this past spring, according to a press release from Trammell Crow. Jim Pratt and Mike Taetz with Colliers International represented PBP in the deal.
The new rail-served distribution facility is expected to be complete in summer 2019. It will feature 32-foot clear-height distribution space, 60-foot speed bays, a 65-foot clear-height roof pop-up for an indoor silo, and approximately 8,000 square feet of office space.
The facility's form, fill and seal production line will be able to process 70 tons of resin per hour, and there will be about 9,500 track feet of rail for PBP to store and switch rail cars. Union Pacific and Burlington Northern Santa Fe serve PBP's property.
Houston firms E.E. Reed Construction, Trans-Global Solutions Inc. and Christensen Bridge & Rail are constructing the building, rail improvements and rail bridge, respectively. Local firms Powers Brown Architecture, Landev Engineers Inc., Binkley & Barfield Inc., RITD Railroad Infrastructure & Terminal Development LLC and Bihner Chen Engineering Ltd., along with North Carolina-based Kimley-Horn, are working on the facility's design.
"Gulf Coast chemical companies are continuing to ramp up resin production, reaching an estimated 54 million metric tons of resin per year by 2020, much of which will be exported outside of North America," Daniela Dell'Oglio, an owner with PBP, said in the release. "Our new, state-of-the-art facility has been designed to serve this rapidly growing market."
Olivia Pulsinelli
Senior web editor
Houston Business Journal