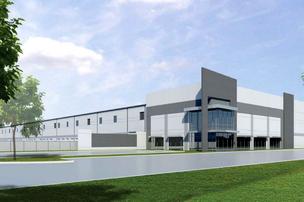 Nearly 400,000 square feet of speculative industrial development has broken ground in Baytown.
Investment & Development Ventures LLC and Sealy & Co. broke ground on a 390,000 square-foot speculative development on 26.86 acres in Baytown, per a CBRE release. The development, known as Thompson 10 Logistics Center, which is being leased by CBRE's Faron Wiley, Billy Gold and David Huddelston, is expected to generate "ample interest" from third-party logistics companies, petrochemical-related companies and e-commerce companies, according to the release.
The park should deliver in 2019. The development will be comprised of two buildings: one building will contain 130,074 square feet of space, while the other will contain 260,148 square feet of space.
The land was sold by Fuller Thompson Ten Ltd. in May, per county documents.
Information on a general contractor, as well as the cost of the development, wasn't made available. Houston-based Powers Brown is the architect. Sealy & Co. is the equity partner on the project. CBRE's Tom Lynch and Mark Redlingshafer represented Investment & Development Ventures LLC in acquiring the land.
The land is located in a municipal utility district, or MUD, per county documents. Property taxation rates within the MUD are still being determined, CBRE's Mark Redlingshafer told the Houston Business Journal.
Before the property was developed, the land was taxed at a rate of $0.80 per $100 of its assessed valuation, per county documents. The current property tax rates will be dramatically lower than $0.80 per $100, Redlingshafer said.
Houston's industrial market has remained hot throughout 2018. Boston, Massachusetts-based Wayfair Inc. (NYSE: W), one of the world's largest online furniture retailers, recently leased 103,635 square feet in an industrial building at 20510 Hempstead Rd. owned and developed by Indianapolis-based Duke Realty Corp. (NYSE: DRE).
And MS Warehousing, a Houston-based full-service distribution and warehousing company, recently renewed and expanded its headquarters lease in 2015 Turning Basin Dr. The company expanded its lease to occupy 143,029 square feet; it previously occupied 78,000 square feet.
And Houston-based Global Stainless Supply Inc., which distributes stainless steel pipes, flanges, fittings, carbon steel flanges and more, renewed its 210,850-square-foot lease at 8900 Railwood Drive, a Class A industrial property in northeast Houston.