Paul Takahashi Reporter-Houston Business Journal
A proposed luxury condominium tower in the Galleria area will feature six penthouse units with private swimming pools on their terraces.
Houston real estate developer Randall Davis plans to break ground in October on the Arábella, a 33- or 34-story luxury condominium tower on the site of the former Westcreek apartment complex, within walking distance to the River Oaks District, a ultra high-end retail development from San Diego-based OliverMcMillan.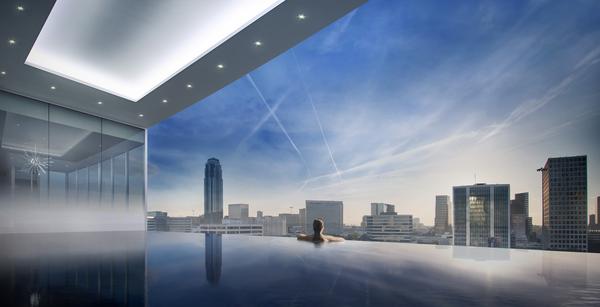 Arábella will feature 105 to 109 condominium units, ranging in size from 1,400 square feet to 5,800 square feet and in price from $800,000 to $4 million. The units — which will have floor plans named after New York City neighborhoods like SoHo and Tribeca — will feature European cabinets, high-end Miele appliances and a range of customizable options for wood floors, stone finishes and carpeting.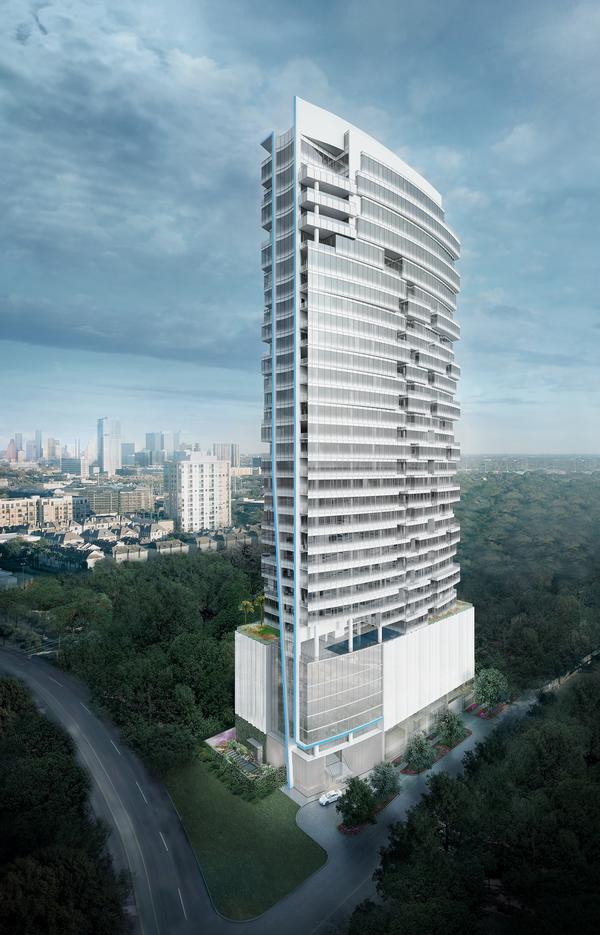 On the upper floors, Arábella will feature 13 penthouses, six of which will have private swimming pools on their terraces. The penthouses will have an upgraded appliance package, a TV in the bathroom as well as heated tiled floors. Several of the units will have private elevator access.
Building amenities include a fitness center, residents room, catering kitchen, a wine cellar with lockers for residents' wines and a massage room, sauna and steam room. There also will be 24-hour concierge service, valet parking and two guest apartments, which residents' visitors can use for a daily fee.
Perhaps Arábella's most striking feature will be its facade, which features 10-foot-tall sections of fritted glass with white dots that resemble clouds in the sky, Davis said. The idea was popularized by architect Richard Meier's high-rise projects in New York City, Davis added. On the north side of the building, Davis is planning a thin blue LED lighting that runs along the edge of the building.
"It adds a beautiful feature to the building makes it look entirely different than most buildings," Davis said. "Arábella is extremely exciting, evocative and majestic."
After opening the sales center on Friday, Randall Davis Co. already has sold three units in Arábella. Davis said he hopes to sell between 25 and 30 units before he begins construction in October. About 15 percent of Arábella's development will be funded by EB-5 investors. The federal EB-5 program allows foreign nationals to acquire immigration visas by investing in U.S. projects.
The Houston real estate developer has partnered with local entrepreneur Roberto Contreras on the Class A project, which will be located on about 0.57 acres near Westcreek Lane and San Felipe Street. The balance of the 1.8-acre parcel, which Randall Davis Co.purchased in the third quarter of 2014, is under negotiations with an undisclosed third party for a high-end retail project, Davis said.
Arábella will be near The Wilshire, a 17-story, 96-unit condominium tower from Houston-based Pelican Builders that is expected to break ground in June. Click here to read more about the other multifamily and commercial projects under development at Westcreek.
In addition to Arábella, Davis and Contreras are working together on the Astoria, a 28-story, 74-unit condominium project in the Galleria area, as well as Marlowe, a 100-unit condominium tower in downtown Houston.
Arábella's project partners:
Development and landscaping: Randall Davis Co. and Robert Contreras
Architect: Powers Brown Architecture, based in Houston
General contractor: GT Leach, based in Houston
Structural engineer: SCA, based in Houston
No MEP or civil engineer since this is a design-build project.