Paul TakahashiReporter-Houston Business Journal
A proposed condominium tower in downtown Houston will try to entice apartment renters into owning a condominium with aggressive pricing and a glamorous Hollywood theme.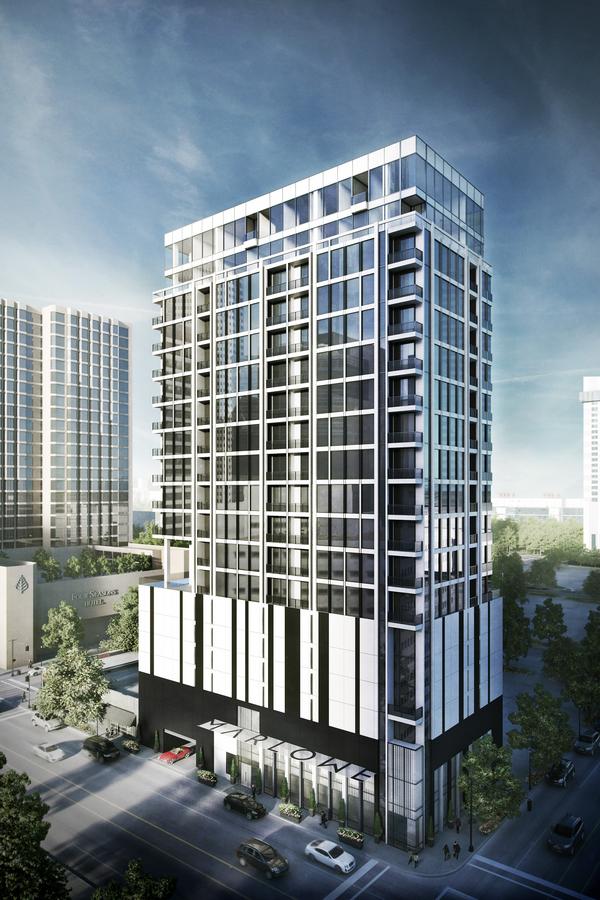 Houston real estate developer Randall Davis plans to break ground this summer on the Marlowe, a 20-story, 100-unit condominium tower on about 0.3 acres at 1311 Polk Street, across the street from the House of Blues and a couple of blocks from the Toyota Center and Discovery Green park.
The gray and white glass building will resemble a pinstripe suit, and the floor plans are named after great movie legends like Brando, Newman and Redford. The one- and two-bedroom units, which average 1,200 square feet, are priced between $400,000 and $1.4 million.
Well-heeled Houstonians can save money by owning a condominium unit at Marlowe rather than renting an apartment downtown, Davis said. Marketing materials for Marlowe state that someone making at least $150,000 a year with good credit theoretically can have a lower monthly mortgage than the average downtown apartment rent of $2,800 per month.
"Why would you want to rent and throw your money into the street?" Davis said. "We want to get people who rent into homeownership. That's the premise for Marlowe."
Davis also hopes his in-unit and common-area amenities will entice renters into homeownership.
The units feature 10-foot ceilings with high-end appliances, gas ranges, imported cabinets and choices of hardwood floor, stones and porcelain finishes. The Marlowe also has seven penthouse units with larger terraces, an enclosed two-car private garage, 12-foot ceilings, solar shades, a wine cooler, a Bertazzoni kitchen appliance package and an air jet tub.
Building amenities including a fitness center; 24-hour concierge and valet parking; a starlight pool and hot tub; a steam room, massage room and sauna; an outdoor fire pit, a resident room and a guest apartment that residents' visitors can use for a daily fee.
The amenities and pricing scheme has attracted some buyers already. In the two weeks since its sales office opened, the Marlowe has sold 10 units, Davis said.
"Houston is building 25,000 apartments but I think there's room for couple hundred condominiums," Davis said. "There's demand for people who want to live in a high-rise condominium but not much product."
Davis has partnered with local entrepreneur Roberto Contreras to construct the Marlowe. The partners also are working on the Astoria, a 28-story, 74-unit condominium project in the Galleria area, as well as Arábella, a 34-story, 109-unit condominium project in the Galleria area.
Like Astoria and Arábella, the Marlowe will be partially financed with EB-5 money. About 15 percent of Marlowe's development will be funded by EB-5 investors, Davis said. The federal EB-5 program allows foreign nationals to acquire immigration visas by investing in U.S. projects.
The Marlowe also is the only condominium project approved by the Downtown Living Initiative, a city of Houston program that awards $15,000 in tax breaks per multifamily unit built downtown. The Marlowe is one of nine multifamily projects planned for downtown. Another nine projects are currently under construction, and one apartment project — SkyHouse Houston — was finished last year. Click here to read more about the other multifamily and commercial projects under development at Westcreek.