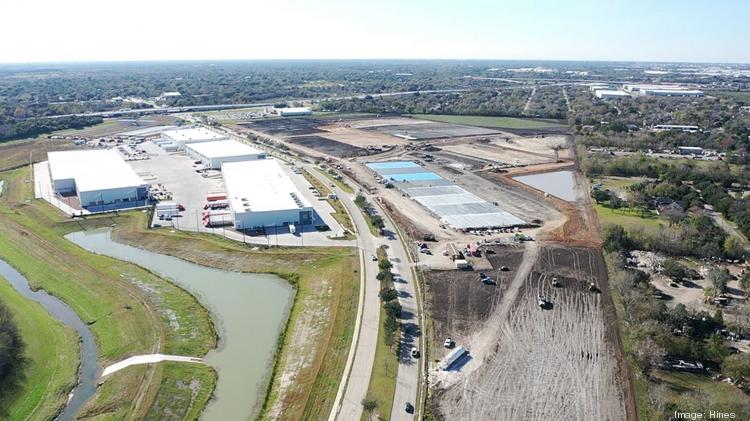 Houston-based Hines has completed the first phase of an industrial park just inside Beltway 8 near Missouri City, and the second phase is underway.
The first phase of the Boulevard Oaks Business Park project delivered four buildings, which encompass 450,000 square feet of Class A industrial space.
Located at 5615 Fuqua St., Boulevard Oaks Business Park is being billed as a premier corporate logistics park.
The building park straddles both sides of West Fuqua Street, which has direct access to Beltway 8.
Harris County Appraisal District records say that the 130-acre parcel of land where the industrial park is located was valued at $17.9 million as of Jan. 1. Hines acquired the property in January, according to HCAD records.
Hines said the four-building first phase of the park is currently 95 percent occupied by eight tenants, with one 25,000-square-foot block of rear-load space remaining.
Filings with the Texas Department of Licensing and Regulations say that Hines expected to spend at least $12.2 million to complete the first phase of the project.
Hines has already begun work on phase two of the project, which will consist of six additional buildings. Those buildings will include three rear-load facilities between 110,000 and 160,000 square feet, two front-load facilities between 105,000 and 125,000 rentable square feet, and one cross-dock facility totaling 530,000 square feet, Hines said.
Once Boulevard Oaks Business Park is completed in the third quarter of 2020, it will consist of 10 industrial buildings, totaling approximately 1.6 million square feet, Hines said.
Jim Foreman and Allison Bergmann of Cushman & Wakefield are handling leasing for the project. Houston-based Burton Construction and Powers Brown Architecture are serving as general contractor and architect of record, respectively.
The new business park is coming online amid some concerns that Houston's industrial market is in danger of becoming over saturated.
A building boom — with 20.5 million square feet of industrial space in the construction pipeline — and relatively low absorption rates have caused some to question whether the supply of available space has outstripped tenant demand.
However, many industrial real estate experts remain bullish about the sector's prospects going forward. During a breakfast discussion hosted by the Houston Business Journal last month, panelists said that while there are challenges ahead, including rising appraisal rates and increased tenant demands, industrial property remains a hot commodity.
Meanwhile, Hines is moving ahead with a number of other projects in Houston.
Earlier this month, the developer offered a sneak peek at the interior of The Preston, releasing renderings of what a number of interior settings will look like. The Preston is a 46-story luxury apartment tower being built at 414 Milam St. in downtown Houston. It's slated to be completed in the third quarter of 2022 and will be the tallest residential tower downtown.
Hines is also the developer behind the nearby Texas Tower, a 47-story, 1 million-square-foot office tower that is scheduled to be delivered in late 2021. That tower is on the 800 block of Texas Avenue.
By Jeff Jeffrey
Reporter
Houston Business Journal