The Woodlands-based Conn's Inc. (Nasdaq: CONN) cut the ribbon Sept. 12 on its new distribution center in north Houston, 10 minutes away from George Bush Intercontinental Airport.
The 656,658-square-foot facility at 1401 Ranking Road consolidates several centers for clearance, distribution, service and other functions. Conn's headquarters remain in The Woodlands, but the company will move several HQ functions, such as human resources, to the new facility.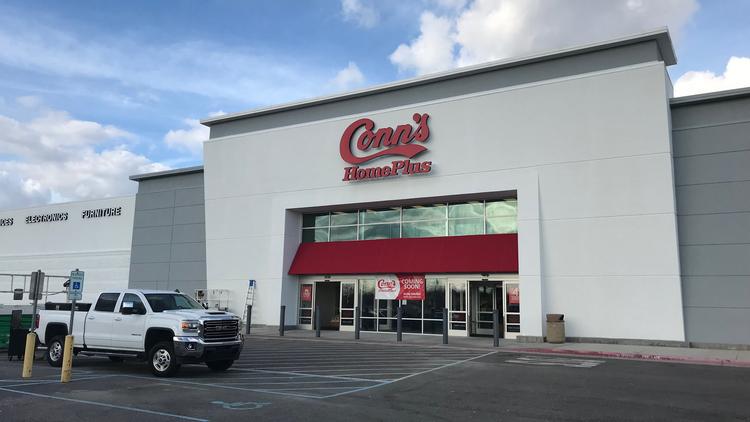 The new facility services 45 stores in Houston and East Texas. This means faster deliveries, pivotal to a company that relies heavily on next-day delivery.
"Allowing us to operate in one building gives us so many more opportunities to service (customers) faster, better, in a more meaningful way. It also allows us to manage our costs, so we don't have to pass that cost on to our customers," said Chris Kaye, vice president of distribution and logistics with Conn's.
Conn's CEO Norman Miller touted the facility's features, adding that it's a LEED-certified facility. The distribution center broke ground Aug. 15, 2018.
"For us, certainly, it's clearly state-of-the-art within the industry, but for us it's (also) cutting-edge, something we've never done within the company. This is diverse and complex, pulling so many functions together under one roof," said Miller.
Miller declined to put a price point on the facility, only that it was in the "millions." Conn's aims to hire 150 more employees to staff the facility.
Pennsylvania-based real estate investment firm Liberty Property Trust is the developer and owner of the property, the
Houston Business Journal previously reported. Rob Stillwell and Chris Malherbe with Newmark Knight Frank represented
Conn's in the lease negotiations. Liberty Property Trust was represented by Hans Brindley, vice president and Houston market leader for the firm.Houston-based Powers Brown Architecture was the architect for the project.
Conn's currently has 133 retail locations over 14 states, with 10 distribution centers. Next year, Conn's will expand into Florida
and plans to add as many as 40 stores there.
Other recent changes for Conn's include some C-level appointments in June, including the promotion of CFO Lee Wright to executive vice president and COO and promoting George Bchara from vice president and chief accounting officer to CFO.
Conn's was No. 58 on the Houston Business Journal's 2019 Largest Houston-Based Public Companies List, based on its fiscal year 2019 revenue of $1.55 billion, and its net revenue was nearly $73.85 million. The company's fiscal years end on Jan. 31.
Laura Gillespie
Reporter
Houston Business Journal