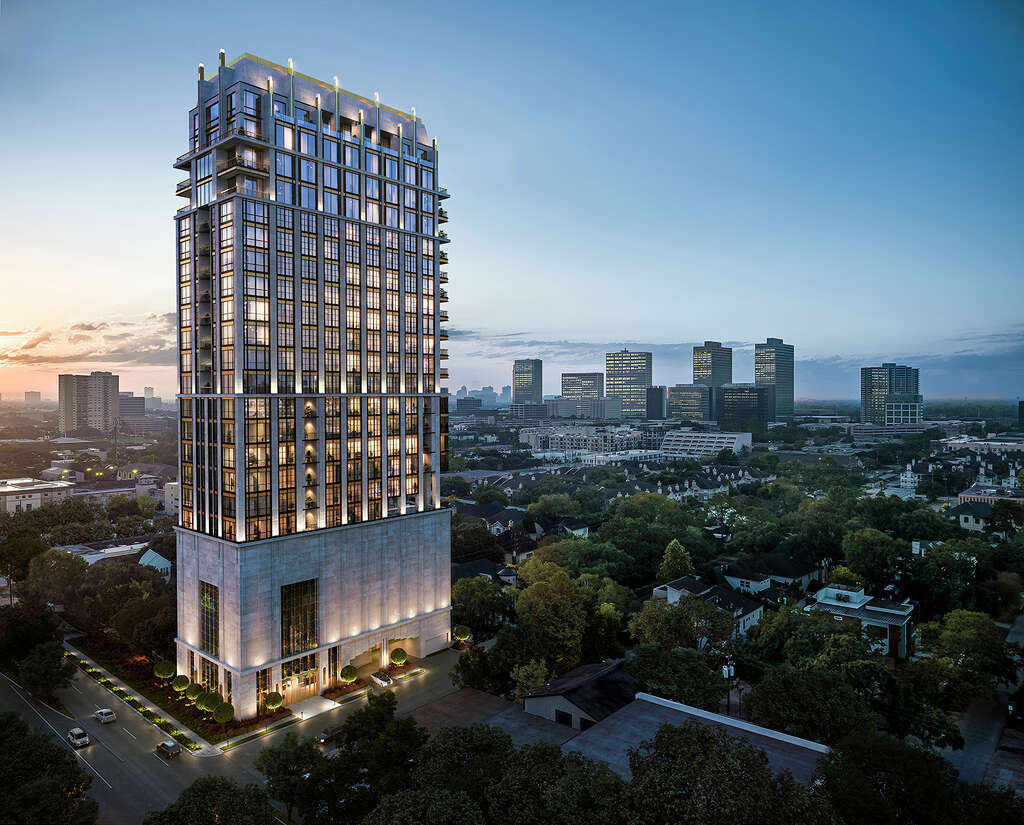 Developer Randall Davis has started presales for his latest project — The Paramount, a 25-story luxury condo tower planned for the River Oaks area just past Highland Village — and opened a sales center to display options buyers can chose from. Davis wanted to set The Paramount apart from competitors by using high-end finishes while making everything extremely customizable — but the design process wasn't easy.
Davis said he worked for months to draft an initial design before deciding he "just hated it."
"I threw it in the trash and started over," he said.
Davis said he and his daughter Natalie, who serves as creative director of the Houston-based Randall Davis Co., wanted to create a building that was unlike any other in Houston.
"We looked around and thought, there aren't any other buildings with gold accents on the exterior. You really don't see that in Houston," Davis said. "I've always been a fan of art deco, and it's coming back in a big way to great success."
The exterior of the building is an homage to some of Manhattan's most recognizable buildings from the 1920s. Art deco flourishes like gold accents and staggered, upward-facing lights are set against off-white limestone and black window frames.
Finding a new look was an additional challenge for Davis, who has already developed or co-developed some of Houston's most luxurious condo buildings. His company, which has often partnered with Houston's DC Partners in the past, brought to market the Astoria at 1405 Post Oak Blvd.; the Cosmopolitan at 1600 Post Oak Blvd.; the Manhattan at 3030 Post Oak Blvd.; and the Metropolis at 1914 Gray St.
More recently, Davis added the Marlowe at 1311 Polk St. and the Arabella at 4521 San Felipe St. to his company's portfolio. Most of the units in those buildings have already sold, Davis said.
But with the Paramount, Davis wanted to provide a building that combined classic design with the ultimate in modern luxury.
Davis and his daughter came up with a design that closely resembled the finished product and tapped Houston-based Powers Brown Architecture to serve as architect. Houston-based GT Leach will be the contractor.
The building will be located on a nearly half-acre tract of land at 3723 Westheimer, between Weslayan Street and Edloe Street. But there was a problem.Davis wanted a variance to build 15 feet closer to Westheimer Boulevard, and some members of the community didn't approve.
That ended up forcing Davis to go with a taller, if somewhat skinner, building.
"That just made us have to go taller to get the same amount of square feet and units," Davis said. "It also made us get rid some of our plans for streetlights and landscaping."
Davis declined to say how much the building will cost to build. But he said he's looking forward to construction getting underway. The building is set to break ground in the second quarter of 2020 and has a two-year construction timeline.
To show off the choices available to prospective buyers, Davis has opened a 9,000-square-foot sales center, half of which is devoted to showing off full-sized models of various rooms.
"We want to provide a place that emphasizes customization," Davis said. "It's important that the customer gets exactly what they want."
Homebuyers will be able to change just about anything they want before moving in. Not only will they be able to choose from a wide array of materials, color schemes and finishes, Davis said he's willing to work with customers on how their new home is laid out.
"If they want a wall moved, we'll get that wall moved," Davis said.
The 25-story tower will include 50 units — 44 standard and six penthouse-level. Units will average 2,800 square feet and will cost between $1 million and $5 million, Davis said.
Standard amenities will include German-made Gaggenau appliances, Eggersmann cabinetry, 11-foot living room ceilings and two parking spaces per unit.
However, buyers will also have the option of adding features like a private elevator entrance, Molteni cabinetry from Italy or a secure "garage within a garage" for their vehicles.
Community amenities will include 24-hour concierge service, indoor and outdoor pools, a high-end fitness center and valet parking.
"We wanted to include as many luxury items as standard as possible, while also offering even more opportunities to customize your home," Davis said.
By Jeff Jeffrey
Reporter
Houston Business Journal